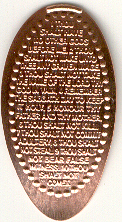 All Ten Commandment molded onto a single penny! A unique gift idea! These are 2 for $1. Shipping and handling is $1 per order, or free if you also get a
Ten Commandments Sign
or a
Christian T-shirt
. Send us an e-mail at

or call 1-877-210-5266.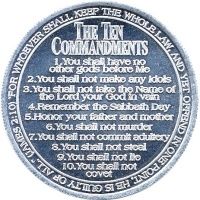 The Commandments NEW! - Coin Special Price -- $1 - Great Gift



Ten Commandments
Jesus Saves Ministry
1271 Eastland Rd
Sparta, TN 38583
Telephone: 1-877-210-5266
Email:

Matthew 19:17 "Why do you ask me," He replied, "about what is good? There is only One who is truly good. But if you desire to enter into Life, keep the Commandments."
Matthew 22:40 The whole of the Law and the Prophets is summed up in these two Commandments.

Deuteronomy 8:6
And thou shalt keep the commands of the Lord thy God, to walk in his ways, and to fear him.

Ecclesiastes 12:13
Hear the end of the matter, the sun: Fear God, and keep his commandments: for this is the whole man.

Exodus 20:6
And shewing mercy unto thousands of them that love me, and keep my commandments.

Exodus 34:28
And he was there with the LORD forty days and forty nights; he did neither eat bread, nor drink water.
Requirement to display 10 Commandments of God in homes.
Deuteronomy 6:9
9 And thou shalt write them upon the posts of thy house, and on thy gates.

Deuteronomy 11:18-23, 26-28
18 Therefore shall ye lay up these my words in your heart and in your soul, and bind them for a sign upon your hand, that they may be as frontlets between your eyes.

19 And ye shall teach them your children, speaking of them when thou sittest in thine house, and when thou walkest by the way, when thou liest down, and when thou risest up.

20 And thou shalt write them upon the door posts of thine house, and upon thy gates:

21 That your days may be multiplied, and the days of your children, in the land which the LORD sware unto your fathers to give them, as the days of heaven upon the earth.

22 For if ye shall diligently keep all these commandments which I command you, to do them, to love the LORD your God, to walk in all his ways, and to cleave unto him;

23 Then will the LORD drive out all these nations from before you, and ye shall possess greater nations and mightier than yourselves.

26 Behold, I set before you this day a blessing and a curse;

27 A blessing, if ye obey the commandments of the LORD your God, which I command you this day:

28 And a curse, if ye will not obey the commandments of the LORD your God, but turn aside out of the way which I command you this day, to go after other gods, which ye have not known.