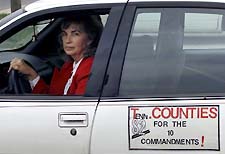 Do you think your local government ought to support the Ten Commandments? Here is someone who does. June Griffin has convinced dozens of county commissions in Tennessee to adopt a resolution in support of the Ten Commandments. Your local government could adopt this same resolution, too! Below is a copy of the resolution and a recent newspaper article from the
Tennessean
about June Griffin.
RESOLUTION
We, the below-signed sitting Commission of _________ County, in consideration of our great Biblical history of Tennessee, both in our Tennessee Constitution and devotional activities in our heritage, hereby acknowledge the importance of the Ten Commandments of Almighty God and wish to go on record in support of this Magnificent Document and state that we will defend our right to its display to the limit of our ability, against all enemies, domestic and foreign, public and private.
In the enacting of this Resolution, we hereby petition the God of Heaven to preserve the peace which He has graciously extended to us by our ancient acknowledgement of the Ten Commandments and beg His continued protection and alleviation of ills which come to those who forget Him and His Law.


This the _______ day of ___________, 2002

_______________________________

Chairman


Whehter you live in Tennessee or elsewhere, you should get your local county commission or city council to pass a resolution similar to this one. For more information, contact June Griffin at jb21@juno.com





Modern-day Moses traverses Tennessee, drumming up support for Commandments in 82 counties
DELORES DELVIN / STAFFM
June Griffin has logged more than 7,000 miles in her travels across Tennessee to ask county commissions to adopt her resolution.
By SUE McCLURE
Staff Writer


ROSSVILLE, Tenn. -- Like a modern-day Moses descending from the mountaintop with two tablets of stone, June Griffin travels across Tennessee with one piece of paper in her hand: a declaration in support of 10 biblical laws.
She's crafted her treatise in the form of a resolution. And just as Moses chided the children of Israel to turn from their evil ways and live by the Ten Commandments, Griffin wants every county commission in Tennessee to go on record in support of the Old Testament tenets and state that they will defend the right to display them.
She is heartened by the fact that 82 of the state's 95 counties have done as she has asked. Sumner, Wilson and Rutherford have passed resolutions like hers in recent weeks.
"This is a Christian nation, and I am trying to restore the things our forefathers established," the feisty 62-year-old said, her eyes flashing. "That's the Bill of Rights, the Declaration of Independence and the Ten Commandments.
"We have offices like the ACLU out to take them away from us, but we are going to take the Bill of Rights back from the ACLU. They stole it away from the God-fearing people of this country."
Hailing from Dayton, Tenn., home of another showdown between biblical and secular beliefs -- the infamous Scopes "Monkey" trial -- Griffin doesn't shy away from controversy.
In fact, she's planning to step squarely into the middle of it by announcing her candidacy for Fred Thompson's soon-to-be vacated U.S. Senate seat.
Griffin's campaign platform includes closing all U.S. borders, protecting Americans' right to bear arms and making all campaign contributions totally anonymous.
She admits she's fighting an uphill battle.
"It will be a miracle if I get elected, because they will pull out all the stops," she said, referring to her opponents. "But I will scare them. And I'm appealing to the God-fearing people of Tennessee, which is the majority.
"I was looking forward to a debate with Tipper Gore, where I would have taken her head off, but she backed out," Griffin said. "Now I'll have to debate Bob Clement. What a bore."
Resolution on Commandments
Griffin has logged more than 7,000 miles on her white 1993 Pontiac Grand Prix while crisscrossing the state to petition county commissions to adopt her resolution. A sign on the car boasts "Tennessee Counties for the Ten Commandments: 82."
Her mission has raised both support and eyebrows.
Wilson County Commissioner Wendell Marlowe sponsored Griffin's resolution, and commissioners passed it unanimously.
"I greatly respect her desire to take her time to do something she feels strongly about," Marlowe said. "Frankly, I feel like one of us on the commission should have come up with this before someone from the outside had to."
Whoa, said Kathleen Flake, an assistant professor of American religious history at the Vanderbilt University Divinity School.
"Arguably, Mrs. Griffin is doing what she, as a citizen, is supposed to do, which is engage in the political process," Flake said.
"But the question is, are the elected officials doing what they're supposed to do by approving the resolution? I'd say not.
"The resolution is a promise to do something the courts have said is unlawful. Did the public officials read those commandments before they endorsed them? What about keeping the Sabbath holy? Are they going to go back to the 'blue laws'?" Flake asked, referring to once-common laws that prohibited many activities on Sunday.
"You don't have to be against the Ten Commandments to see why endorsing them compromises the religious liberty of other citizens," Flake said.
Representatives of the American Civil Liberties Union of Tennessee have a lawsuit pending against Hamilton County for displaying the Commandments. Similar lawsuits may also be filed against Rutherford and Sumner counties, which recently voted to display the biblical laws in their commission chambers.
Hedy Weinberg, executive director of the ACLU of Tennessee, was out of town last week and unavailable for comment.
While Griffin is pleased that several counties have elected to post the commandments, she said that was not her primary mission. "I want to get every county to support the biblical laws and say they will defend the right to display them," she said. "My cause is support for the Bill of Rights."
So far, Williamson is the only county to vote against adopting Griffin's resolution, she said.
"The question of its legality was the basis for our vote," explained Williamson County Commissioner Judy Hayes. "Goodness knows, no one is against the Ten Commandments. I think we ought to all live by the Golden Rule. But our attorney advised us that the legality of such a resolution was questionable."
Counties that have not voted on the resolution are Davidson, Robertson, Montgomery, Warren, Blount, Carter, Meigs, Lauderdale, Hardeman, Stewart, Unicoi and Hawkins.
Religion of 'Americanism'
Speaking to a veterans group in Crossville this week about both her Ten Commandments mission and her Senate candidacy, Griffin told the former military men she preaches the religion of "Americanism."
"Our high priest is the Lord Jesus Christ," she said. "He made a covenant with us, and he sealed it with his blood.
"He is not the milquetoast Jesus with long hair. He looks like George Washington and Alvin York and you, and you, and you," she said, motioning around the room.
Several in the audience nodded. An "amen" was heard from the back of the room.
"I have made a covenant with Almighty God that I will do everything I can as a senator," she said. "And while I don't have a lot of money, I would rather depend on the prayers of God-fearing people than all the money and gold in the world."
"I think she can do it," said Mitchell Nolan, 78, a veteran from Crossville. "It's going to take a lot of courage, but as she said, God can do anything."
Forrest O'Dell of Crossville listened carefully as Griffin outlined her platform.
"I like her ideas," he said. "But I'm not sure about all that 'hallelujah and amen' stuff. That can kind of drive people off."
But Griffin doesn't mind being a burr in the side of some people.
She marched into U.S. Rep. Van Hilleary's office this week and told office workers that the government was not "an insurance company, a chamber of commerce or a bank" to dole out taxpayers' dollars.
"I can fix the problem," she said. "I can help y'all fix it. But when I call here, it's like I'm from another planet."
Mary Ann Crowe, district scheduler for Hilleary, says Griffin calls the office several times a week with concerns.
"Sometimes it's issues you can get your hands on, but most times it's not at our level, like income tax," she said.
Undeterred, Griffin left the building with her head held high, ready for her next appointment -- and another opportunity to spread the word about her mission.



Child's Ten Commandments
Matthew 5:19
Whosoever therefore shall break one of these least commandments, and shall teach men so, he shall be called the least in the kingdom of heaven: but whosoever shall do and teach them, the same shall be called great in the kingdom of heaven.

Matthew 19:17
And he said unto him, Why callest thou me good? there is none good but one, that is, God: but if thou wilt enter into life, keep the commandments.

Matthew 22:40
On these two commandments hang all the law and the prophets.

Mark 10:19
Thou knowest the commandments, Do not commit adultery, Do not kill, Do not steal, Do not bear false witness, Defraud not, Honour thy father and mother.

Luke 18:20
Thou knowest the commandments, Do not commit adultery, Do not kill, Do not steal, Do not bear false witness, Honour thy father and thy mother.


This Day In Christian History is brought to you by the Ten Commandments Resolution:


January 3, 1840: Joseph de Veuster, who, as Roman Catholic Missionary Father Damien gave his life ministering to lepers in Hawaii, is born in Tremelo, Belgium.
January 3, 1892:
Literature professor J.R.R. Tolkien, author of the Lord of the Rings trilogy and a devout Catholic, is born in Bloemfontein, South Africa (see issue 7: C.S. Lewis).